Homemade French Vanilla Cappuccino Mix
If you're looking for a healthy, caffeine-free drink to curb those coffee cravings, this Homemade French Vanilla Cappuccino Mix is just the ticket! It's caffeine-free, dairy-free and refined sugar-free. Plus, once you have a batch of this instant cappuccino mix whipped up, your mornings will be a breeze!
Our wonderful friend Michelle just made this Homemade French Vanilla Cappuccino Mix special for us, using Java Sisters Vanilla beans! This recipe is delicious, healthy, and easy to follow. Every part of it tastes as good as it looks! Please check out Michele's blog where she shares her many vibrant, healing, and delicious recipes.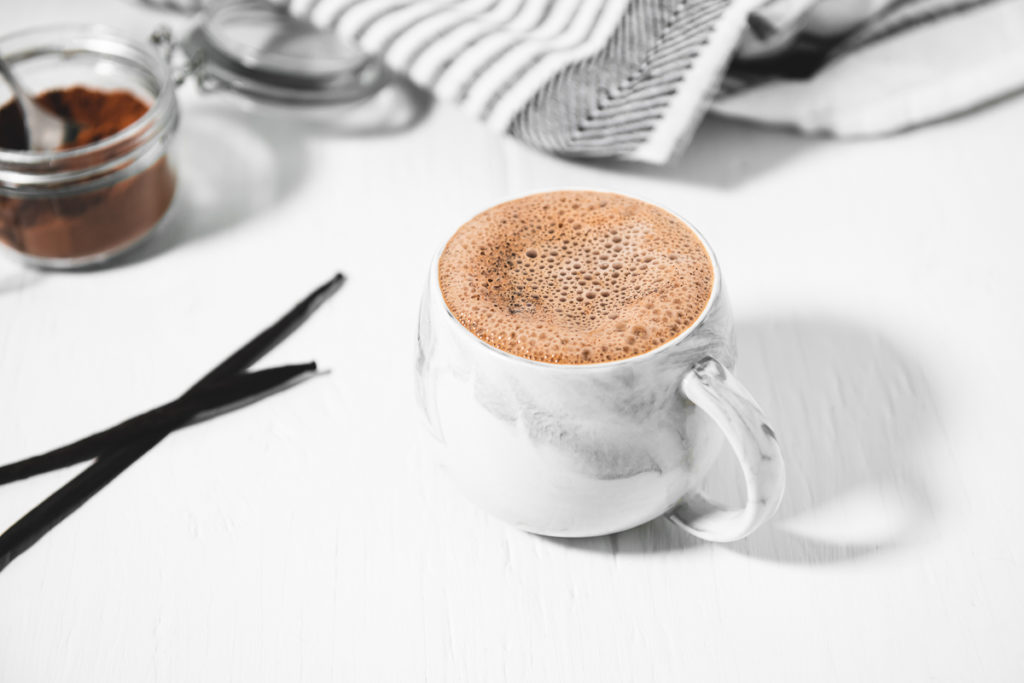 WHAT'S IN THIS HOMEMADE FRENCH VANILLA MIX
COFFEE SUBSTITUTE
You could use roasted, ground dandelion root on its own, ground chicory root or any other plain coffee substitute you prefer. Although, dandelion root has so many health benefits, such as balancing hormones (which is a big plus if you're prone to acne).
CACAO POWDER
Cacao powder gives this french vanilla mix a bit more bitterness, adding to the coffee flavor. It also helps to bring the french vanilla flavor together. It perfectly complements both the coffee and vanilla flavors without overpowering.
HOMEMADE VANILLA POWDER
The key to this recipe is making your own vanilla powder. It offers a much richer and sweeter flavor. Plus, making your own is much cheaper than buying a big jar of it and is way simpler than you might think! To make this French Vanilla Mix, all you need is two fresh vanilla beans. 
COCONUT SUGAR
Coconut sugar offers a sweet caramel-like flavor, similar to brown sugar. It pairs perfectly with the vanilla and cacao, bringing more warmth to this french vanilla cappuccino mix. The coconut sugar also doesn't make it overly sweet, so if you have a sweet tooth, you can always add more to taste.
COCONUT MILK POWDER
Coconut Milk Powder adds a natural sweetness and little creaminess, just like powdered milk would do. However, coconut milk powder is a much healthier option as it usually doesn't contain any or many additives. It's also a great source of good fats. Plus, it makes this French Vanilla Cappuccino mix dairy-free and vegan.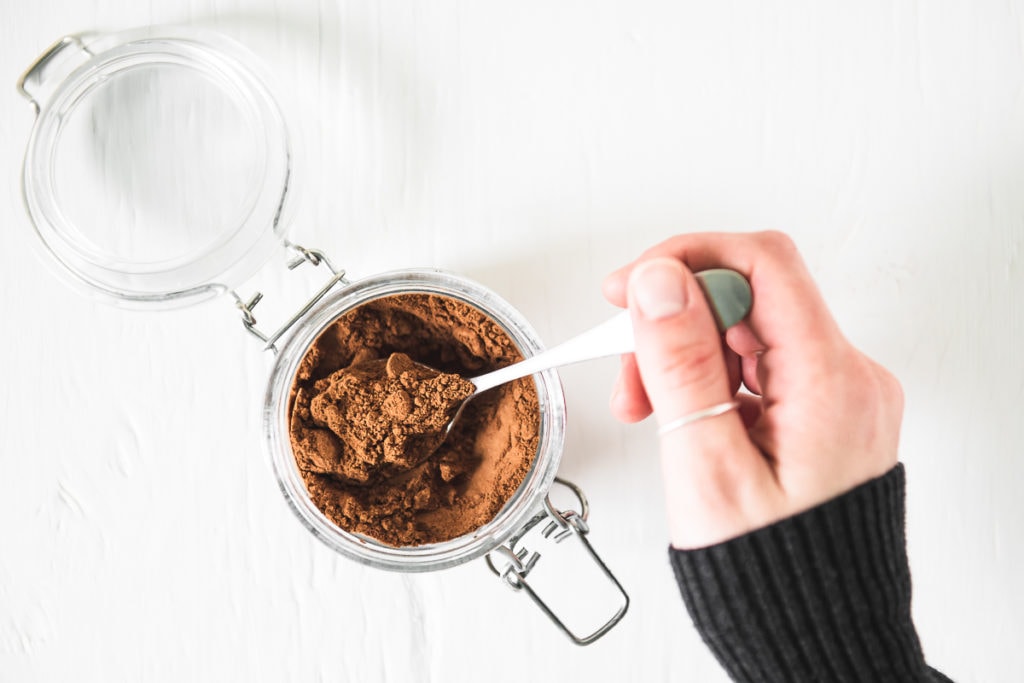 MAKING YOUR FRENCH VANILLA CAPPUCCINO MIX
To make your French Vanilla Cappuccino Mix, throw all your ingredients into a blender (again, a small smoothie blender works great), and blend until smooth. Alternatively, you can just mix the ingredients together with a spoon. However, the cacao powder and coconut milk powder tend to get clumpy when it's not blended. It also helps to blend in the vanilla a little better with the other ingredients.
Once all the ingredients are mixed or blended, store in an airtight container (preferably glass) for up to six months.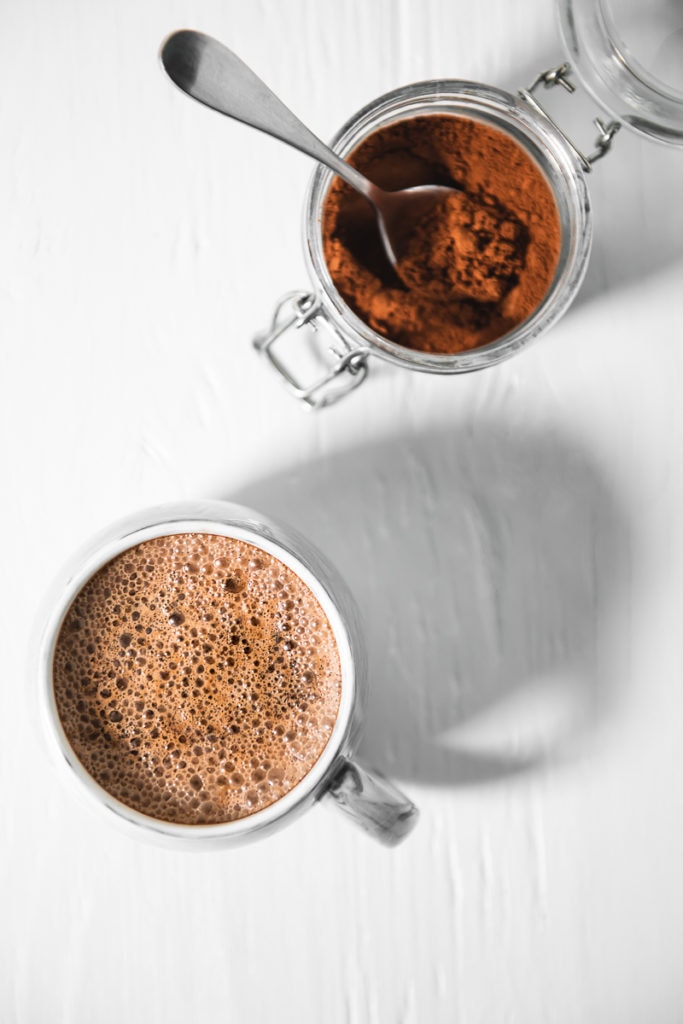 HOW TO USE YOUR HOMEMADE FRENCH VANILLA MIX
To use your Homemade French Vanilla Cappuccino Mix, add two tablespoons to a 350ml (11oz) mug. To get it nice and smooth, first mix it with a splash of milk or hot water to make a paste. Next, stir in either hot water or warmed milk and mix well.
When using hot water alone, it becomes more like a black french vanilla coffee. While, when using warmed milk, it becomes more like a creamy cappuccino. You can also do half hot water and half warm milk. Or you can always play around to get the ratio of your liking.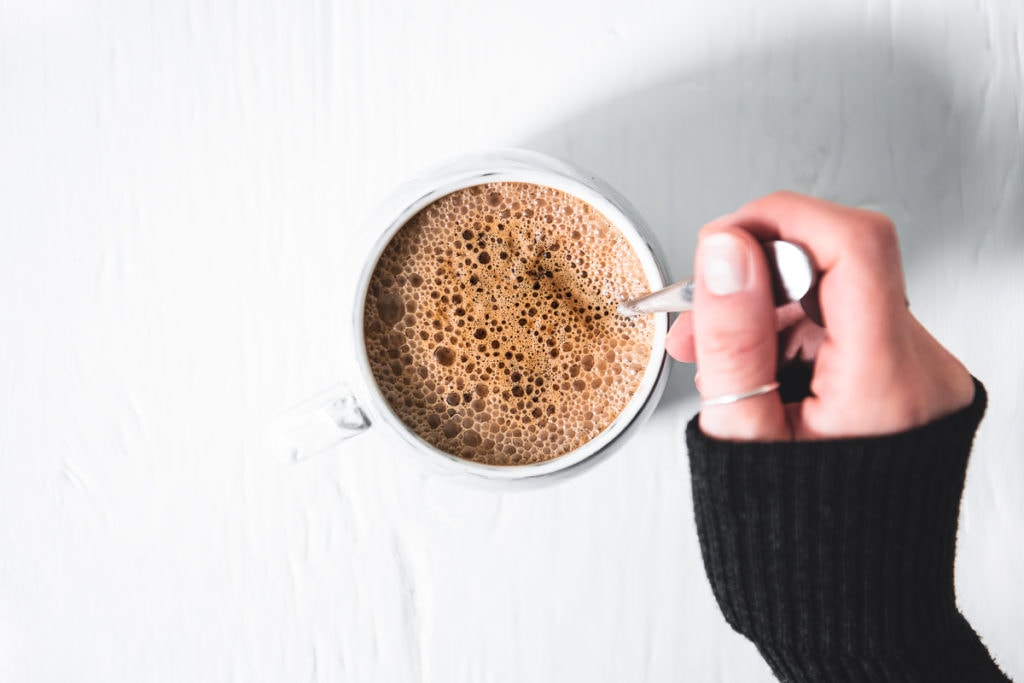 Please note, this cappuccino mix isn't overly sweet. If you prefer your cappuccinos on the sweeter side or are used to Tim Horton's French Vanilla cappuccinos, you'll want to add another teaspoon or two of coconut sugar once you add the water or milk.
To make your french vanilla cappuccino extra frothy, blitz in the blender for about 30 seconds. And for an extra treat, you can even sprinkle some more cacao powder and vanilla powder on top!
OTHER USES FOR YOUR HOMEMADE FRENCH VANILLA CAPPUCCINO MIX
You don't just have to use this delicious coffee free French Vanilla Mix just for cappuccinos! You can also use it to makes french vanilla flavored sweet treats and baked goodies. Stay tuned for some recipes!
Recipe Creator:
Many thanks to Michelle who developed this healthy and delicious Homemade French Vanilla Cappuccino Mix recipe.
Michelle is the founder, creator and photographer behind Beet of The Wild. Some call her a kitchen witch, some call her a forest fairy. One thing is for sure, you can either find her whipping up some healthy eats or wandering barefoot with her forever pooch, Magnolia Mae.
She takes a gentle approach to nutrition, informing those who are ready to make lasting changes to their health, wellbeing and lifestyle—beautifully expressing knowledge, wisdom, inspiration and motivation through stunning visuals and captivating articulation. Check out the full article the Homemade French Vanilla Cappuccino Mix recipe on her blog.